Industrial Water Treatment System On-Site Repair
Pargreen Process Technologies understands the urgency and need for quick response for Industrial Water Treatment Service. There is an opportunity cost of time, revenues, and resources when water systems are down or malfunctioning. Pargreen has the insight required to be a true support asset that comes from 4 decades of working with complex systems and a diverse client portfolio.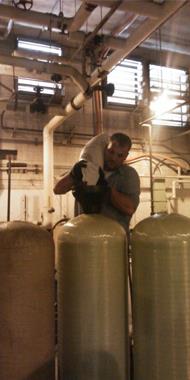 Pargreen works on all types – all brands – of water treatment/water conditioning systems and components. Service offerings range from new systems, to replacements, system upgrades & rebuilds, to media replacement.
Technologies we service include:
Industrial water softeners
Microfiltration (MF) systems
Ultrafiltration (UF)
Nanofiltration (NF)
Industrial Reverse Osmosis systems (RO)
Deionization (DI)
Electrodeionization (EDI)
Dealkalizers
Cooling tower filters
Iron filters
Pargreen's seasoned customer service reps, technical advisors, and senior industrial service technicians are ready to help you with your water system needs.
Industrial Installation Services
Pargreen senior technicians also provide installation services for all our systems. From physically installing our equipment to supervising the installation of large systems, we insure that the project placement is functional and accessible for future maintenance. We do not sell systems and walk away – we provide solutions and support for the life of the system.
Industrial Maintenance Programs
Pargreen Water Technologies (PWT) offers maintenance programs for industrial water treatment systems. PWT project managers schedule visits to conduct Preventative Maintenance on all sizes and manufacturers of equipment. These water specialists monitor each system and make any necessary adjustments, inspect chemical feed pumps & tanks, check and/or change filters in addition to scheduling any necessary repairs. In addition, PWT can maintain ancillary system components such as permeate storage, concentrate reuse systems, UV lamps, pumps, carbon filtration, and SDI.
Following each visit, PWT water specialists update maintenance logs and provide complete documentation of all work and findings. With a PWT Preventive Maintenance Agreement, treatment systems consistently provide the optimum quality and quantity of product water within the design limits of the system.
Repair and Troubleshooting
If we sell it, we can fix it. We service all makes and models of water treatment equipment. Pargreen has emergency services 24-hours a day. We understand the urgency related to industrial service and respond accordingly. Our senior service technicians go into the field in fully stock service vehicles. Each service call is reviewed by our technical support staff prior to dispatching to insure that we have the parts and assemblies to complete the call.
Pargreen offers troubleshooting and project service audits. Our water group includes industry specialist with decades of experience in the industrial world. These experts will review your systems and projects and provide project reports complete with solutions and recommendations. Pargreen is a one-stop-shop for all your service needs.
Training and Education Programs
Fine-tuning your people is as important as fine tuning your equipment. Pargreen has certified trainers on staff to provide essential learning and knowledge for your staff. From application, to service and maintenance, we cover all levels of training and continuing education. We tailor each training course to the client's individual needs. Get higher performance from your people. Lifetime learning is essential to keeping your greatest asset content and engaged. Call us about Pargreen training services!