Water Softening Systems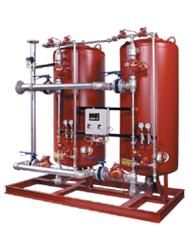 At Pargreen Process Technologies, we leverage our strong background in water treatment technology to build industrial water softening systems that fit neatly into your plant architecture. Our technical design team provides customized solutions that align with your flow rate, volumetric, and soft water requirements. Engineered to increase your overall productivity, all of our systems are easy to operate and maintain.
Configured for seamless integration into your process stream, we offer both standard downflow systems, as well as ultra-high efficiency upflow softeners. Incorporating brine recovery and water reclamation systems can lead to substantial savings on water and salt. We offer both fiberglass and steel vessels with an ASME stamp. Piping is available in Noryl, steel, stainless steel, PVC, or copper. Multi-port valves or valve nests are offered with manual, timed, metered, and progressive regeneration control options. We can also include water quality and usage monitoring to ensure accurate flow rate and acceptable water softness.
Our technical staff can perform a comprehensive intake audit of your existing systems. After assessing your process requirements, they can make recommendations for additions or upgrades that will increase efficiency and reduce your operating costs. They consider every detail of your requirements both now and into the future so you can feel confident that the water softening system is designed correctly for the job and produces the water quality you need.
Industrial water softeners are a worthy investment. Removing calcium and magnesium compounds in water eliminates scaling in piping, heat exchangers, boilers, water heaters, and other process equipment. This ensures peak productivity, reduces maintenance, and extends the longevity of expensive process equipment.
Contact us today to learn more about our water softening systems.